POWERFUL RENDERING FOR NUKE ARTISTS

Mua V-Ray for Nuke bản quyền

CHẤT LƯỢNG
V-Ray cung cấp đầy đủ các công cụ cho lighting, shading và rendering đáp ứng nhu cầu cho việc tạo photo và hoạt ảnh chuyên nghiệp.

MẠNH MẼ
Được xây dựng để xử lý các dự án lớn nhất cùng các cảnh quay có kỹ xảo điện ảnh phức tạp nhất. V-Ray cho bạn khả năng Render mạnh mẽ hầu như mọi thứ.

TỐC ĐỘ
Tối thiểu thời gian chờ – tăng thời gian cho việc sáng tạo – V-Ray cung cấp một quy trình làm việc nhanh chóng và hiệu quả, giúp bạn vượt qua mọi deadline.

KIỂM SOÁT MẠNH MẼ
Nếu việc Render là một chiếc ô-tô, với V-Ray, bạn sẽ là người cầm lái, kiểm soát hoàn toàn phần mềm và công việc Render. Các tính năng linh hoạt của V-Ray cho bạn khả năng tiếp cận các cảnh render tốt nhất.

TƯƠNG THÍCH THÔNG MINH
Hãy Render theo cách của bạn, mà không gặp bất kì cản trở nào. V-Ray tương thích liền mạch với 3ds Max cho bạn một quy trình làm việc trôi chảy.

TIÊU CHUẨN CHO MỘT NGÀNH CÔNG NGHIỆP
Các nghệ sỹ và các studio hàng đầu thể giới chọ V-ray cho render và hiệu ứng hình ảnh cho các tác phẩm của mình.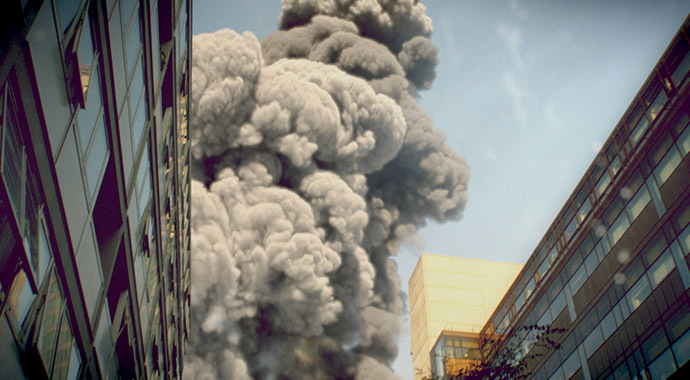 V-RAY VOLUME GRID
New algorithm dramatically speeds up rendering in scenes with many lights.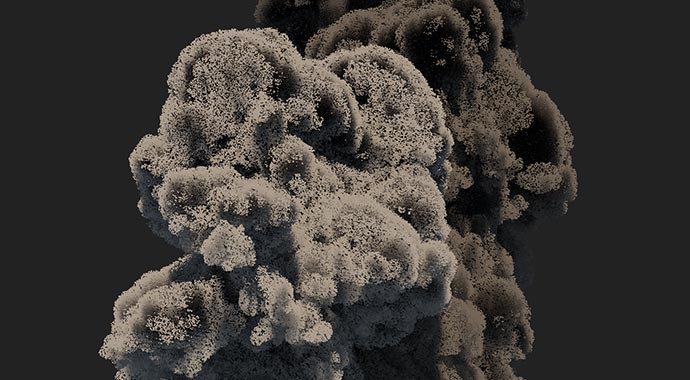 DEEP RENDERING
Improved deep rendering capabilities with support for deep volumes. Save disk space by generating deep data directly inside NUKE.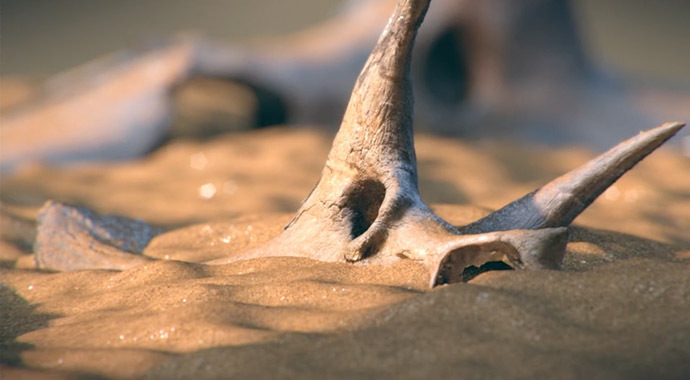 V-RAY FALLOFF TEXTURE
Control shading effects in relation to an object's surface angle to the camera. Use NUKE Curves for even more control.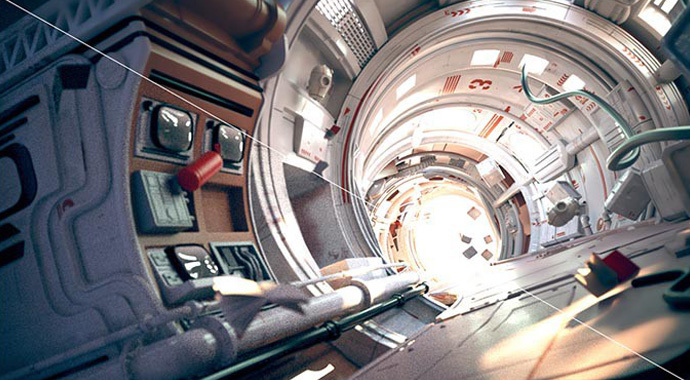 V-RAY DENOISER
Automatically reduce noise for cleaner renders. Denoise individual render elements, apply noise masks and denoise final deep composites.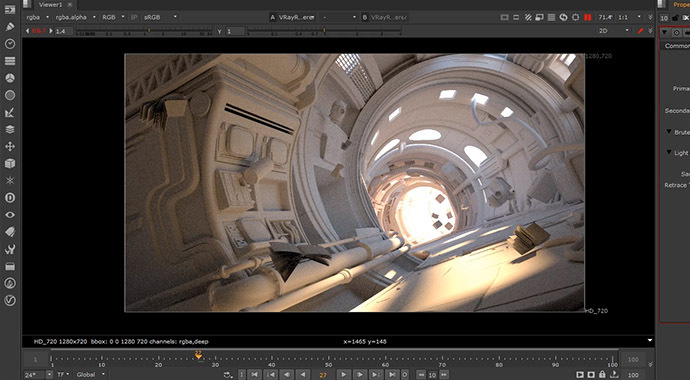 LIGHT CACHE GI
Speed up renders with V-Ray's unique global illumination method. Enable the new Adaptive Lights algorithm to make it even faster.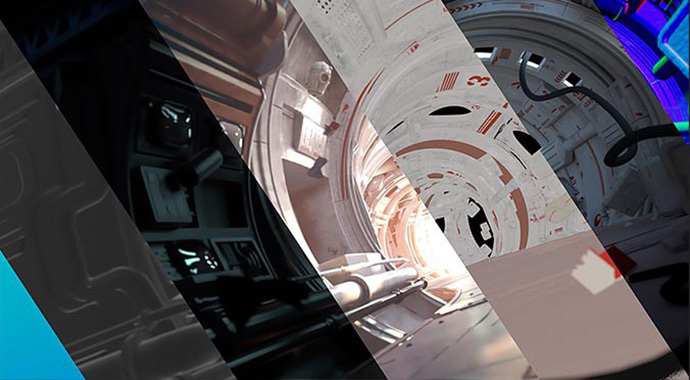 IMPROVED RENDER ELEMENTS
Render elements generated in V-Ray for NUKE or rendered in V-Ray Standalone can now be used interchangeably. All render elements can be cached with a single render.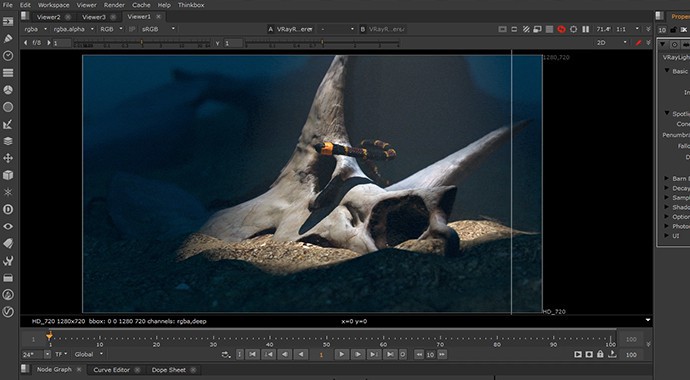 V-RAY SPOT LIGHT
Create spotlights with textured projections, barn door controls and soft shadows.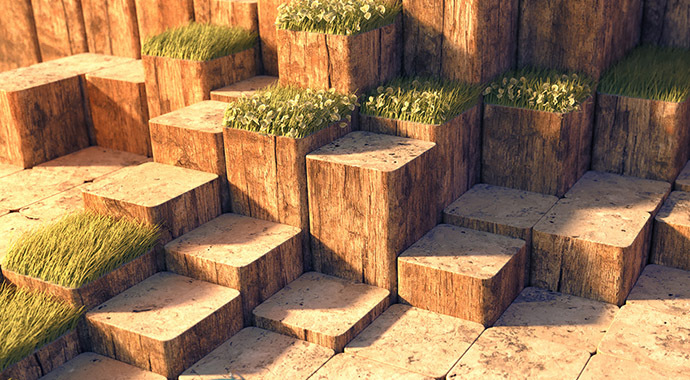 TRIPLANAR TEXTURE
Apply seamless textures on complex objects without UVs.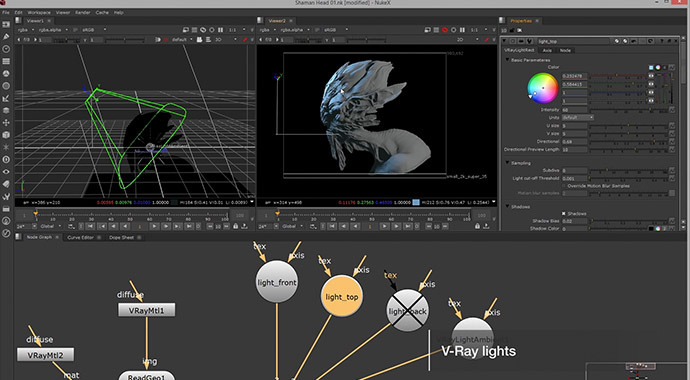 ACCURATE LIGHTING
with a wide range of light types including spot lights, area lights, HDR environments, NUKE lights and more.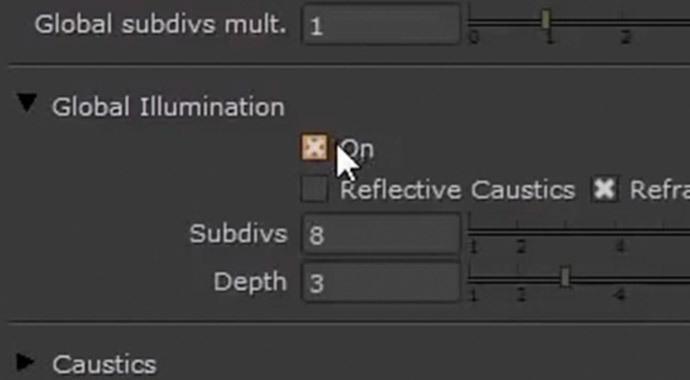 GLOBAL ILLUMINATION
Render accurate indirect illumination with V-Ray's precise ray traced GI.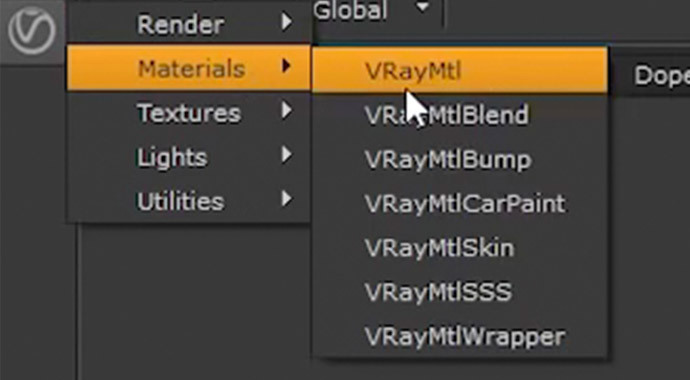 PHYSICALLY-BASED MATERIALS
Create multilayered physical materials directly in NUKE. Choose from purpose-built shaders for car paint, SSS, skin and more.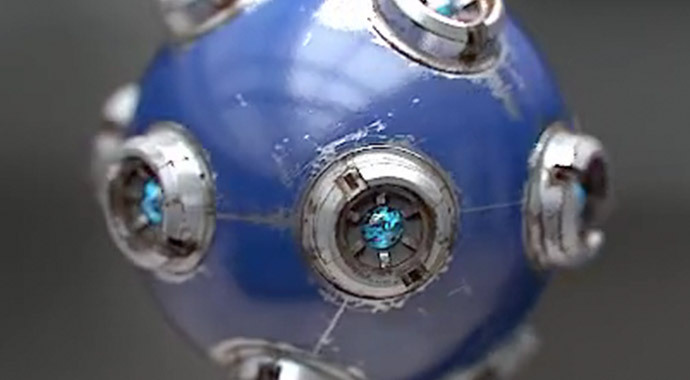 PRODUCTION-READY TEXTURES
Choose from a number of production-ready texture types including tiled EXR & TX files, layered textures, ambient occlusion and procedural noise.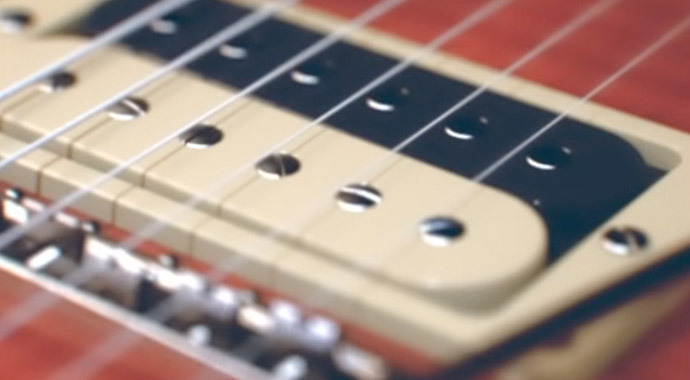 CAMERAS
Select from a variety of camera types including physical cameras, VR panoramas and NUKE projection cameras.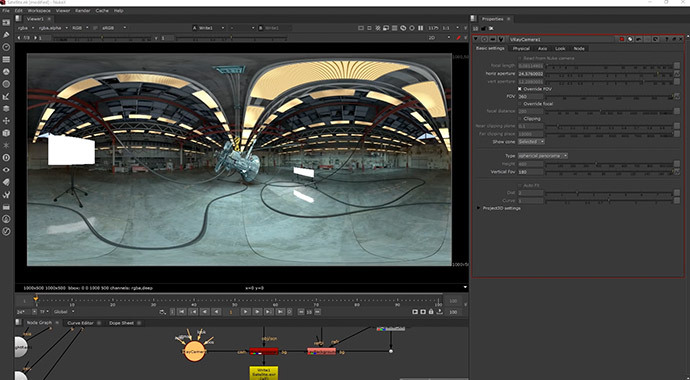 VR CAMERAS
Render to popular VR formats including spherical and cubic 6×1 panoramas.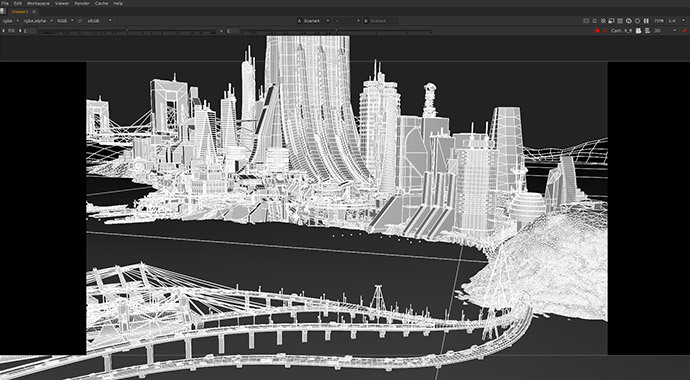 GEOMETRY
Import Alembic, FBX and OBJ geometry with NUKE's built-in ReadGeo node.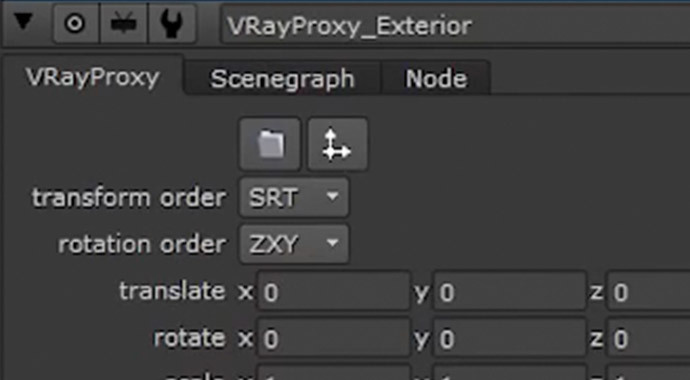 PROXY OBJECTS
Import and render memory-efficient proxy objects as Alembic or V-Ray mesh files.
Cần thêm thông tin hoặc bạn đã sẵn sàng mua V-Ray?
Liên hệ với chuyên viên của chúng tôi để được tư vấn và báo giá.
(024) 3915 6886 – (028) 3610 0816
hanoi@pacisoft.com hoặc hcm@pacisoft.com